First Visit
My staff and I welcome you to our orthodontic practice. Our office continually strives to provide the highest quality of care. We maintain a professional and enriching atmosphere that provides excellence in orthodontic care. We pride ourselves on actively pursuing new knowledge and technology that will better serve our patients. New patients are always welcome and warmly embraced in our practice.
Initial Visit
At your initial visit Dr. Brock and his staff will:
Actively and attentively listen to your concerns and needs
Review your medical and dental history
Thoroughly examine your teeth, jaws, and face
Present potential treatment options
Educate you on the treatment process
Offer various flexible payment plans
This important 30 minute initial visit will give us valuable insight into your orthodontic needs and concerns. We know your time is valuable, so if orthodontic treatment is recommended, additional time is allotted to complete your diagnostic records following the initial exam. Diagnostic records include x-rays, photos, and impressions for study models. Once your diagnostic records are analyzed, Dr. Brock will provide you with a treatment plan that addresses your specific needs and outlines the best course of action and/or options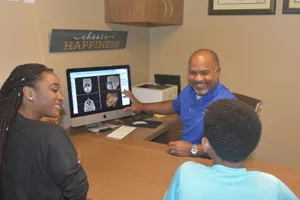 Beautiful Smiles are Gentle on Your Budget
The actual cost of orthodontic treatment depends on a number of factors, which include problem severity, duration of treatment and surgical needs. Our fees are based on these and other factors, not the number of visits required to achieve the desired result. We offer a number of treatment financing options which will allow you to receive the smile you want in the time you want it. Orthodontics is truly an investment in yourself that not only produces a beautiful healthy smile, but also improves your self-esteem and overall health.
Payment Options
Our in-office payment plan is a 0% interest plan. The plan consists of an initial down payment with the remaining balance divided into equal monthly payments. In addition to cash or check, we accept Visa, Mastercard, Discover, and American Express.
As an added bonus, we offer a bookkeeping discount for payments made in full at the start of treatment. In addition, we offer a multi-family discount for families with more than one person in treatment with us.
Note: For some patients, a flex/cafeteria plan is an excellent way to set funds aside tax-free to pay for eligible health-related expenses, which includes orthodontics.
Insurance
As a courtesy and service to our patients, we will file your primary insurance for you. Please bring all of your insurance information with you or provide it prior to arrival at your initial exam and we will verify your orthodontic benefits for you. Please be aware of the following facts about orthodontic insurance:
Orthodontic insurance is not always included with your dental insurance coverage.
Most orthodontic insurance covers 50% of the total fee, up to a lifetime maximum.
Orthodontic insurance is usually not paid as one lump sum. Rather it is disbursed as an initial payment (usually 20-40%) and monthly or quarterly disbursements thereafter.
If you change jobs, your orthodontic insurance payments may stop (unless your new job has orthodontic benefits). The remaining unpaid balance of the fees due would be your responsibility.